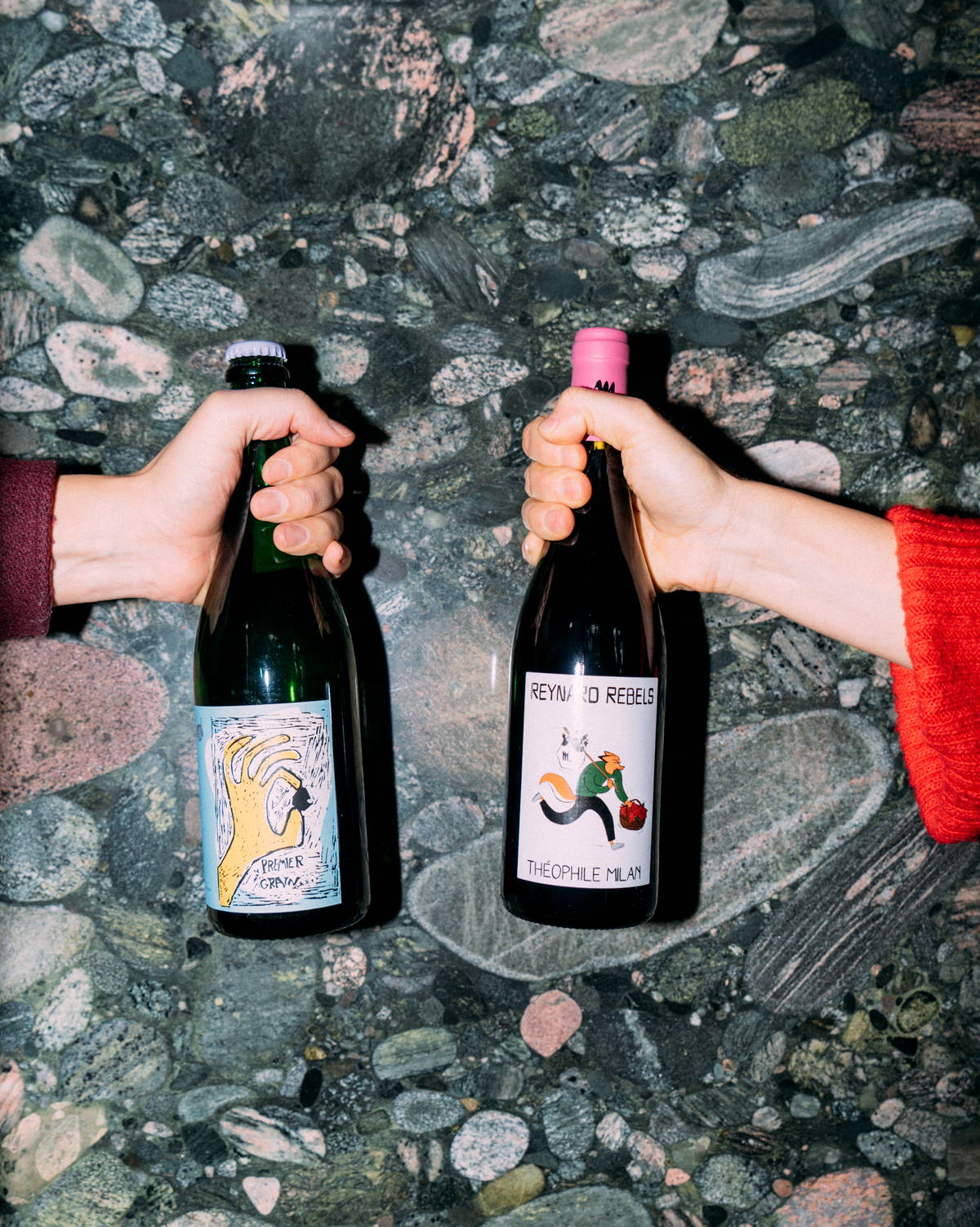 YOU WILL RECEIVE:
2 bottles of natural wine at the beginning of every month

A booklet with descriptions of the wines and their wine producers, some tasting notes and suggestions for food pairing.

Tasting video with wine lovers

Invitations to our members-only events
DETAILS
You will start receiving the package at the beginning of the month following your subscription.

We will be featuring wines of all colours and styles, from Sparkling to Skin Contact and beyond.

Bottle prices will vary, from CHF 20-40+

Automatic delivery to your address or pickup at store

You can cancel the subscription whenever you want

CHF 49 per month, charged every month.

At the moment we need to charge for delivery. Pick up is free.
Wino forever as a Gift? Click here
HALL OF FAME
#1 JANUARY: FROM PARIS WITH LOVE: FRENCH FRAUENPOWER
#2 FEBRUARY: FRANK&EDUARDO - ETNA WINES
#3 MARCH: ORANGE WINE
#4 APRIL: RARE NATIVE GRAPES
#5 MAY: DARK ROSÉ
#6 JUNE: PET NAT
#7 JULY: SALINA - MINERALIC WINES
#8 AUGUST: SWISS NATURAL WINES
#9 SEPTEMBER: ITS OKAY TO LIKE GAMAY
#10 OCTOBER: ALMOST SOBER OCTOBER
#11 NOVEMBER: RED BUBBLES
#12 DECEMBER: WOOD VERSUS AMPHORA - GARNACHA
#13 JANUARY: MASTERS OF NATURAL WINE
#14 FEBRUARY: GEORGIA ON OUR MINDS
#15 MARCH: CALABRIA - NOT JUST ANOTHER SOUTHERN ITALIAN REGION
#16 APRIL: GRAY AREAS: A SHORT GUIDE TO PINK-SKINNED GRAPE VARIETIES
#17 MAY: GLOU GLOU REDS
#18 JUNE: A CRITIQUE OF PURE RIESLING
#19 JULY: SECONDARY GRAPE VARIETIES
#20 AUGUST: SWISS FIZZ
#21 SEPTEMBER: PALHETE
#22 OCTOBER: CROATIAN WINES
#23 NOVEMBER: MUSCAT FAMILY
#24 DECEMBER: Prosecco - col fondo
#25 JANUARY: SWISS CiDER
#26 FEBRUARY: BURGENLAND
#27: ........